About us
---
Handful of Songs is quite simply a wonderful opportunity to extend what Guiding can offer its members. It has influenced many cast members in their careers and brought together hundreds in the name of friendship and Girlguiding.
As far as we know the show is unparalleled. Many Guides put on shows throughout the country, but none we know of on a biennial basis and over so many years.
The cast are members from Girlguiding Stone Outward Division and are invited to take part from the age of 7 years. For many years we have had between 60 and 70 girls and 20 to 30 adults. Until 2002 Brownies needed to be 8 years of age, however we have now relaxed this and welcome brownies from the age of 7 years. In 1984 we invited Guides and senior section members from Stone Central and Eccleshall Districts to join the cast and this has continued although from 2000 Outward became a Division. We are pleased to have the girls and some of the Guiders working alongside us.
We have designed our own logo for the neckerchiefs and woggles, and these are awarded for performing or after helping with three shows. We are not in competition with anyone and therefore the show has developed and become more professional through its own merits.
The show gives girls the opportunity to take part in something that is quite unique. Girls come forward sometimes with little confidence and ability and through the weeks of rehearsals and the show become stars. Everyone will take away their own memories of A Handful of Songs but surely the fondest memories for all involved are the last night of a show. Everyone is on a high, the audiences are magic and the friendships made over the months of rehearsals are sealed, tears of joy spill over as the curtain falls.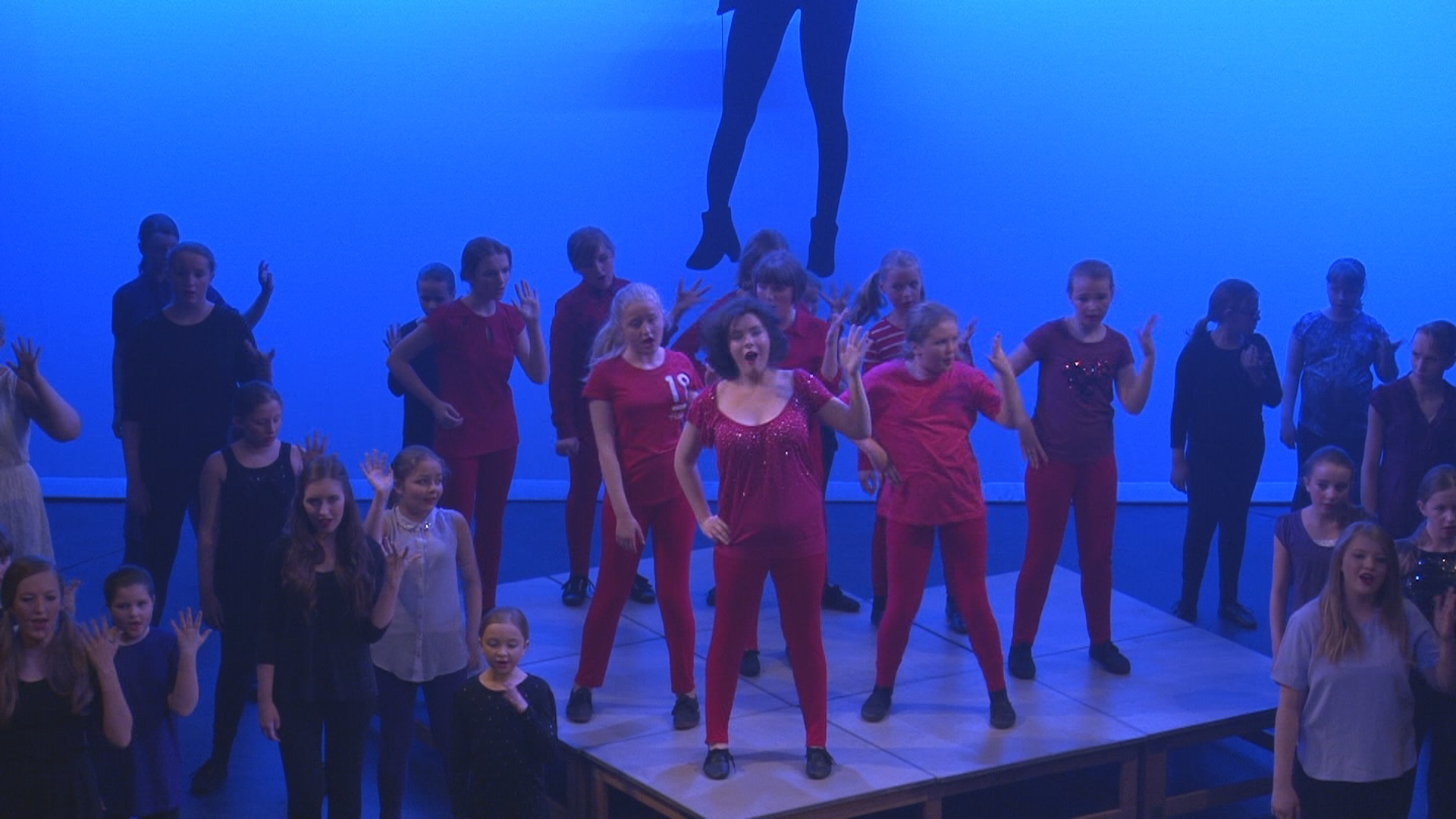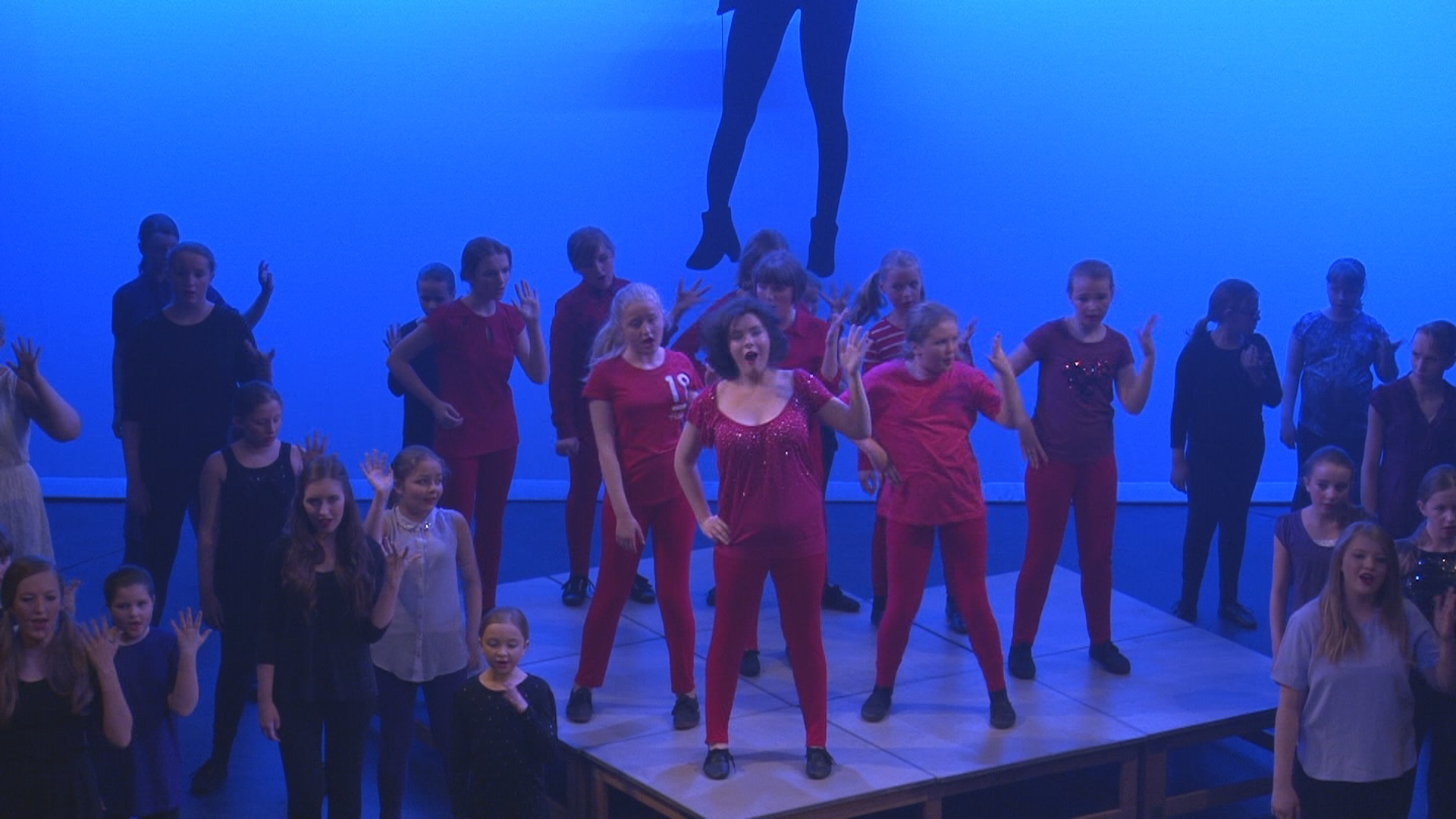 Facts about the show
---
Interesting fact Between 1975 - 2004 882 girls have appeared on stage. Between 1975 - 2004 240 adults have appeared on stage.
The adults only perform in one item, so it is a night of two and half hours of pure enjoyment watching the young people display talents that often they did not know that they had.
The senior section members perform in the main cast until the age of 18 and then move to the adult cast which will mean that they only perform once. It has been important that we maintain our show as one where the girls take the lead. From our records it is wonderful to note that many join as a Brownie and stay with us until the age of 18 which usually means that they will have performed in 6 or 7 shows.
The Guiders take their turn on stage and always succeed in bringing the house down!. They have been Mums Army, Nuns, Cleaners, Cub Scouts and Shirley Temples, Palm Court Orchestra, Hollywood Stars, to name but a few. We have a lot of talent in our Guiders and they always rise to the occasion and give it everything. The back stage nerves are very much in evidence, words for songs have been stuck on all sorts of props but they always get away with it, somehow. We were delighted in 2004 to welcome 5 Trefoil members on stage with the guiders, they had a great time and it was really special to see them take to the boards.
Memorable moments from previous shows are etched forever in the memories of some team members:- In 1992 Maureen directed a complete dress rehearsal at the Theatre suffering from laryngitis. She had no voice whatsoever. Not an easy task, but not impossible! You just use lots of hand movements.
We once did a complete item in French, this seemed a good idea at the time and we felt that we played a big part in helping some girls gain good grades in GCSE. The 2006 show the girls sang in Swahili, inspired by the Smile trip in 2005.
Jelly Babies have been instrumental in their own way at rehearsals. Ask any of the cast for explanations as to why so many have lost their heads! A campaign was launched in the late 80s to save the jellybaby and members removed the little people from her sight and taste. They provide much humour and motivation to the cast.
From the success of our shows we have been given the opportunity to perform at Lichfield Cathedral, Birmingham Symphony Hall and The Victoria Hall, Stoke on Trent. In 2004 we also performed at the Mermaid Theatre, London at the Girlguiding UK Annual Review. A group of 109 cast and team members went down to the theatre at the crack of dawn and it was a day that will never be forgotten. Girlguiding UK President, Sophie, The Countess of Wessex was the guest of honour and all the cast were privileged to meet her after the performance.
We rehearsed the opening for a show with the girls sure that they were wearing Show Costume (blue skirts, white T-shirts and neckerchiefs). The cast were delighted when on dress rehearsal 70 clown costumes had been hand made unbeknown to them. Margaret Roberts and her team and done these purely from paper measurements. It was quite a feat and the result was spectacular. Bales of hay arranged on stage for a Country and Western item were most effective and had been obtained with a great deal of effort - until the Fire Officer ordered them to be removed.
We have taught the whole cast to tap dance, they have danced in bags as jelly babies, danced in water tin cases and on boxes. The audiences have been amazed at the professionalism. We sing to a very high standard and succeed in choosing some difficult songs as well as some of the old time favorites. We perform sketches and these are always written by the team but cause great amusement. To date a scene has never been repeated so it is fresh every show.
Show history
---
In 1975 Maureen Recine as Guide Captain of 1st Barlaston Guides, decided to put on a show for the Senior Citizens of the village for Christmas, and A Handful of Songs was born. Barlaston was part of Stone Outward District within Stone Division at this time. Little did anyone realised that 35 years later they would still be performing to packed houses in a realtheatre and Maureen would still be producing the show. The Parish Rooms Barlaston Maureen, greatly encouraged by the Guides, their parents and members of the Guiding and Scouting movements, collected songs and ideas and the show was performed at the Parish Rooms, Barlaston on January 11- 13th 1975. Anyone connected with that show will have lasting memory of the impact this had on them all - they froze. The main problem about performing in the Parish Rooms was that there were no changing rooms. A marquee was simply erected in the car park, with a covered walkway to the stage. The cast of 38 Guides from Barlaston, Oulton and Tittensor Companies were surely strengthened in character on those nights.
Maureen borrowed £25 from Barlaston Guide's account to put on the show, and was able to pay that back in full with a grand profit of £48. Everyone agreed it was great success and perhaps they would do it again sometime. Shows now cost in the region of £9000 to stage!.
Of course, the success of the show meant that there was a good deal of encouragement to do another. A smaller impromptu concert was performed for parents in the Guide Headquarters at Barlaston in 1977. Remember, this was Jubilee year, and Maureen had produced her first child the previous year!
The 1979 show, performed at Barlaston Parish Rooms, involved Brownies for the first time, sixteen of them took part along with 35 Guides from Barlaston, Sandon, Oulton, and Tittensor. We became more ambitious and had more colourful costumes and scenery.
It was becoming apparent that the show had a very real place in the local community, it was hugely supported and the girls really wanted to entertain. A decision was made to move the next show to 1982, (as 1981 was Gang Show year) we developed a pattern of performing in even years, with our Scouting friends taking the odd years.
Alleynes School Theatre Stone 1982 saw the show move to Alleynes Theatre for the first time, and where we had a happy liaison until our move to the Stoke Repertory Theatre for the 2004 show. The production in 1982 saw Rangers for the first time along with 21 Brownies and 32 Guides. Through our association with Alleynes Theatre the show grew. We constantly played to packed houses, with our audience coming from farther a field. No show has a more loyal team of supporters than A Handful of Songs, and it was a delight to welcome some of the same people to watch us perform in our 21st year, as were there at our first production. Stoke Repertory Theatre 2004 saw the move to the Rep in Stoke on Trent. We had outgrown Alleynes in every way but the decision to move was a very difficult one as we had enjoyed a very happy relationship with school for many years.
However we need not have worried the staff at the Rep made us very welcome, the girls loved the chance to work on a large stage and the team all rose to the new challenges. Most importantly our audiences did not mind travelling those few extra miles and we played to packed houses. It was a wonderful opportunity for us to expand and change the format of the show to ensure that we moved with the times and the 2004 show saw some spectacular scenes.
Rehearsals over the years we have held rehearsals at Barlaston Scout and Guide Headquarters, Meaford Power Station Social Club, Drake Hall Prison Officer's Club, B.T. Social Club, Stone Youth Centre, Frank Jordan Centre, St Michaels First School and now in our new home at Tittensor First School where we have been made very welcome.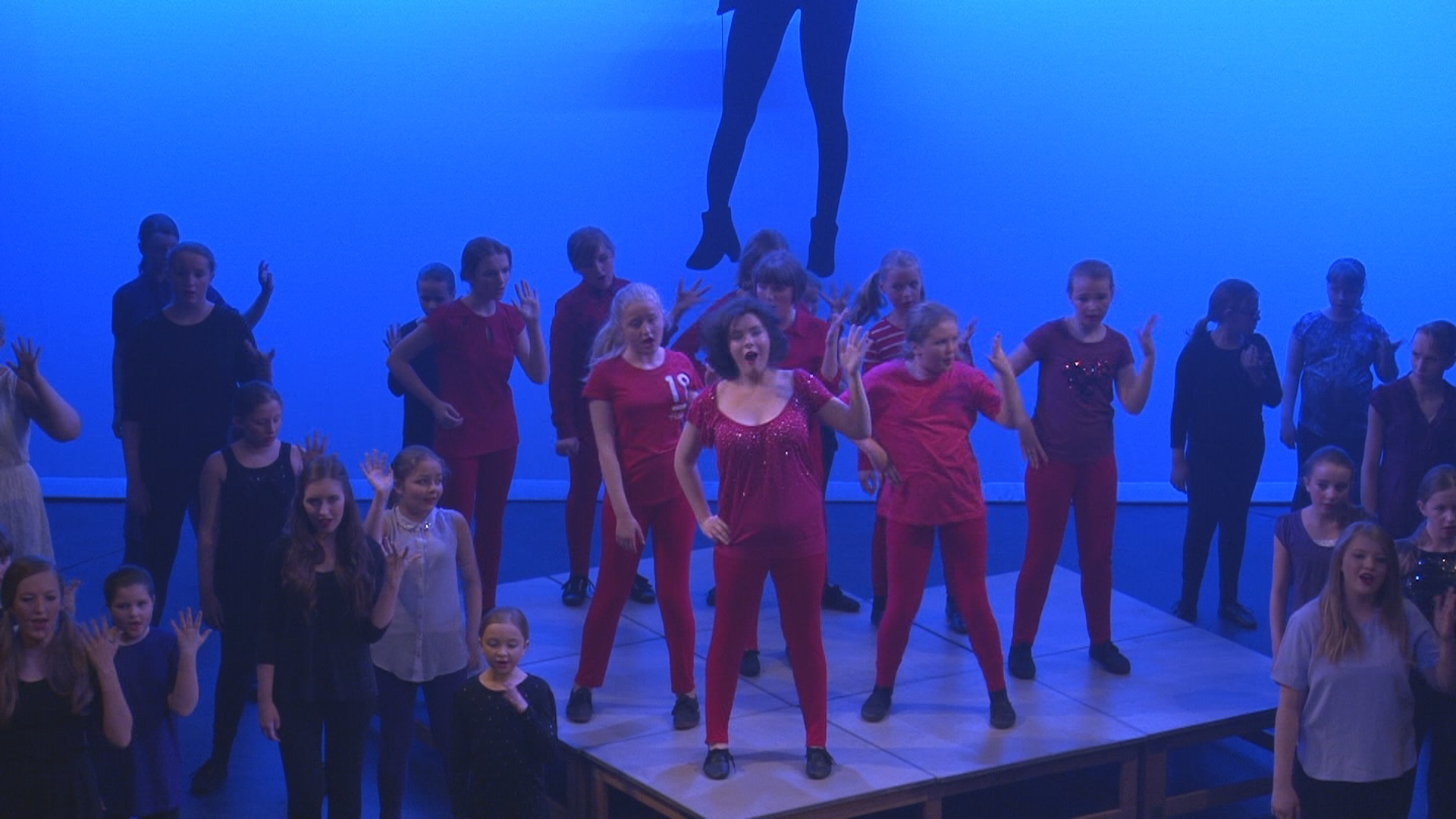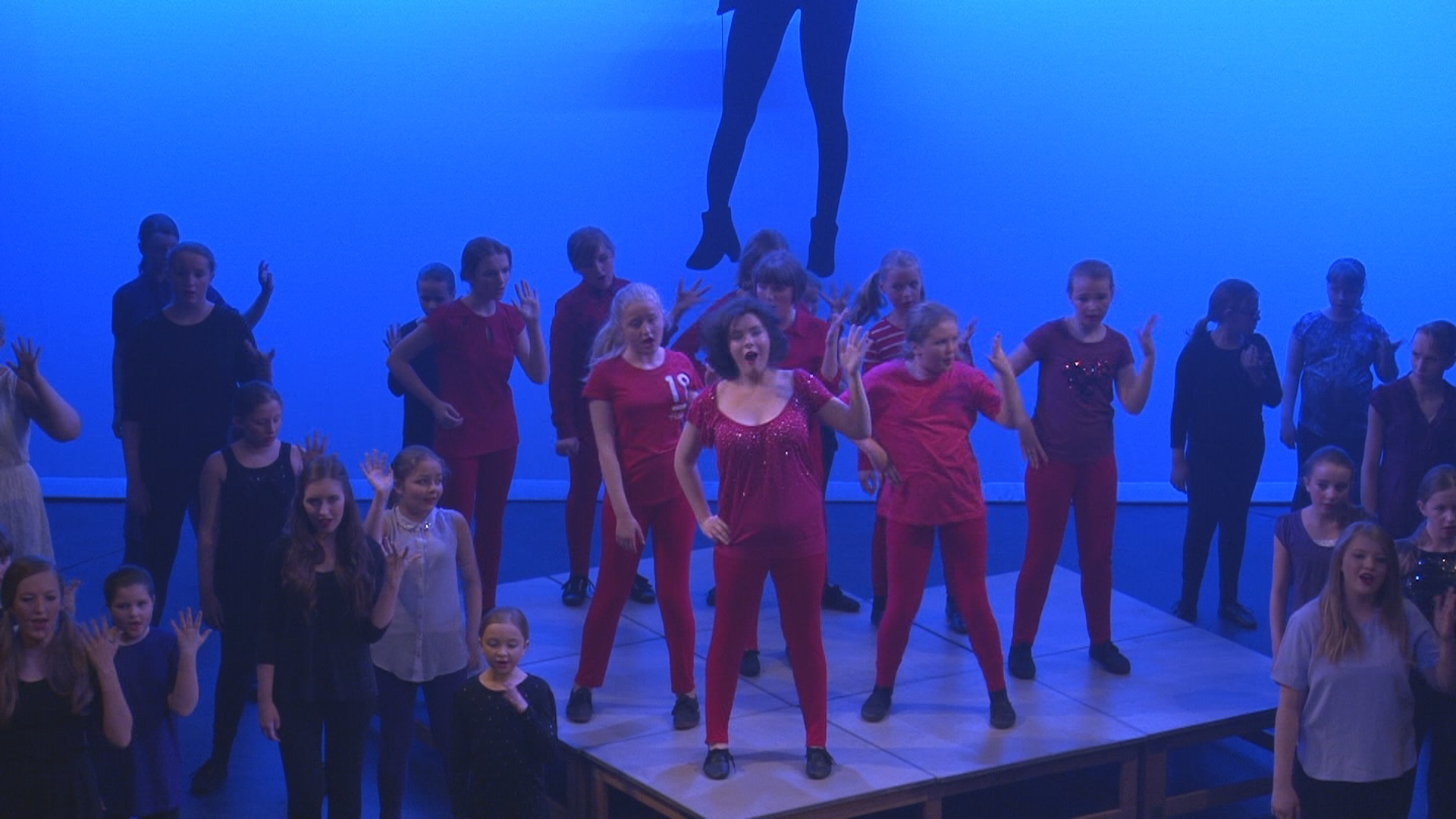 Sad Loss
---
Of course with anything as long running as A Handful of Songs there are some who are sadly no longer with us and we will never forget the contributions that Phyllis Goodall, Nigel Jones, Barbara Lilley, Margaret Newman, Elaine Hargreaves and Jim Wilson made to the show.
We recorded a track on a CD which was made to raise funds for the late Nigel Jones chosen charity.